Proudly Australian Built
Full Range of Australian Built Trailers for Sale in Townsville. Proudly Made in Australia For Australia.
Assured Best Price
We shall not be beaten on quality or pricing on our trailer. Speak to our trailer expert about our assured best price policy.
30+ Years of Experience
Manufacturing Trailers in Australia Since Last 30+ Years with 100% Australian Steel.
Large range of trailer options built to suit your needs
Big Trailer Warehouse Townsville
Big Trailer Warehouse Townsville is Queensland's newest supplier of trailers and their corresponding parts and accessories with a convenient one-stop shop located in Townsville.
We are sure that you will love the value and quality in each of our trailers that we have to offer, so feel free to come and say hi and check out our range at 2 Crowder Street, Garbutt 4814 QLD Australia.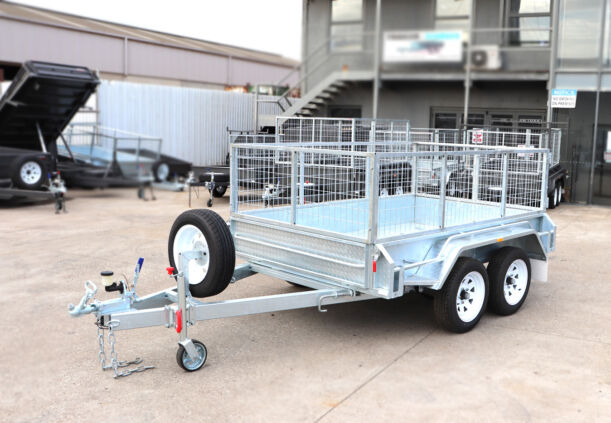 FULL RANGE


Single & Tandem Axle Trailers for Sale in Townsville

Our range of trailers for sale in Townsville is huge and includes the following variations: box, cage, tradesman, tipper, gardening, car carrier, stock, motor bike, atv, van, plant, camper and flat top. Remember, if we don't have what you are after, we most likely will be able to make it with our full custom design service.
High quality custom designed galvanised trailers for sale to provide you with the most value
With over 30 years' experience designing and building trailers, we have the necessary expertise and industry knowledge to deliver you nothing short of the highest standards. All of our custom made products can be tailored to your exact size specifications and individual requirements. This means that if you have a certain function for your galvanised trailers in mind, we can accommodate your needs to ensure you have a highly functional and practical design. Simple speak with our team regarding what you were hoping for and we'll be able to advice you as to your options and explain what's within the scope of our ability. Having designed a vast array of different styles, shapes and sizes, we're confident we'll be able to offer a solution.
Big Trailer Warehouse Townsville
We welcome you to browse our website and feel free to contact us at 07 4725 5310 or drop into our retail store should you have any queries or concerns.